The Nuffield Early Language Intervention is a 20-week programme proven to help young children overcome language difficulties. It is designed for children aged 4-5 years and combines small group work with one-to-one sessions delivered by trained teaching assistants, targeting vocabulary, narrative skills, active listening and phonological awareness. Developed by a team led by Maggie Snowling and Charles Hulme, the intervention has been evaluated in robust trials funded by the Education Endowment Foundation and the Nuffield Foundation. These have found it to be effective for improving children's oral language skills as well as promoting longer-term progress in reading comprehension.
The Nuffield Early Language Intervention (NELI) is designed to improve the spoken language ability of children in reception classrooms.
It is targeted at children with relatively poor spoken language skills.
Teaching Assistants are trained in how to develop children's language skills.
Clear lesson plans are provided to save preparation time.
Materials for children are bright and accessible.
Three 30-minute sessions per week are delivered to groups of five children during the Spring and Summer terms (20 weeks).
Children also attend an additional two 15-minute individual sessions per week.
All sessions focus on listening, narrative and vocabulary skills.
Work on phonological awareness is introduced in the final ten weeks.
Important information
The DfE is making Nuffield Early Language Intervention (NELI) available to primary schools. This offer is for primary schools in England only. If your school qualifies then staff will have access to online training and resources free.
The DfE have confirmed from 16th September 2021 that they're extending the window for applicants for NELI until the end of October 2021.
If you want more information about the DfE/EEF offer click here
There is a useful FAQ section click here
To register an interest click here
We are not involved in the course administration for the free training. Please contact the course administrators by clicking this link if you need support or have any questions.
If you are a primary school in Wales, Scotland, Northern Ireland or are a private school please contact Hayley Kyle on hayley.Kyle@oup.com to register your interest in attending NELI training.
Elklan Training is not currently offering ANY NELI training for TA's.
– 16th September 2021
EEF trial key facts
NELI has been robustly evaluated through a randomised control trial between June 2018 and November 2019.
The results provide strong evidence for the effectiveness of the NELI programme.
The trial involved 1,156 pupils in 193 schools.
NELI children made an average of 3 ADDITIONAL months' progress in language.
This result has a very high security rating: 5 out of 5 on the EEF padlock scale.
The cost of NELI is £58 per child (where the progamme is used over 3 years with 5 children per year).
Teacher feedback
"A worthwhile programme that has supported some of our most needy children to develop their language and communication."
"The programme was a good resource that was perfectly aimed for the children in our setting."
TA feedback
"We have loved using it and the difference it has made to the children is unbelievable. They have taken everything on board and now the children won't be quiet! They love talking about everything and are so confident!"
"I have seen a significant improvement in the children I have worked with. Their narrative skills from entry to now are almost unbelievable. One of the children in particular could barely utter a word in English and now is fluent with very impressive language skills, lots of staff have noticed this and are amazed at her progress, this in turn has brought her confidence on massively. The programme has definitely brought on all of the children's confidence, language and communication skills."
Brochure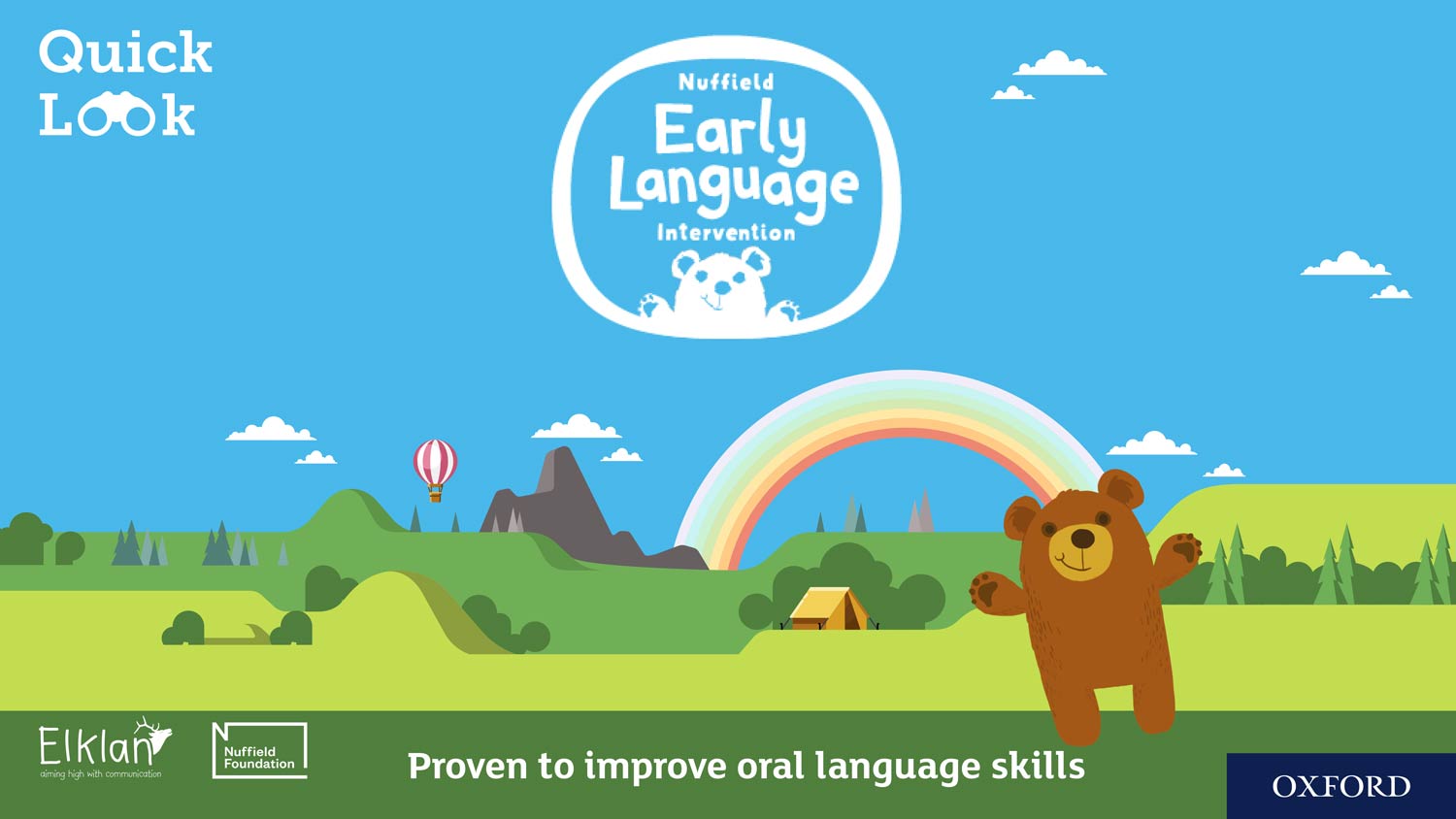 Download the PDF brochure produced by Oxford University Press for more info.
Videos
More information about NELI: